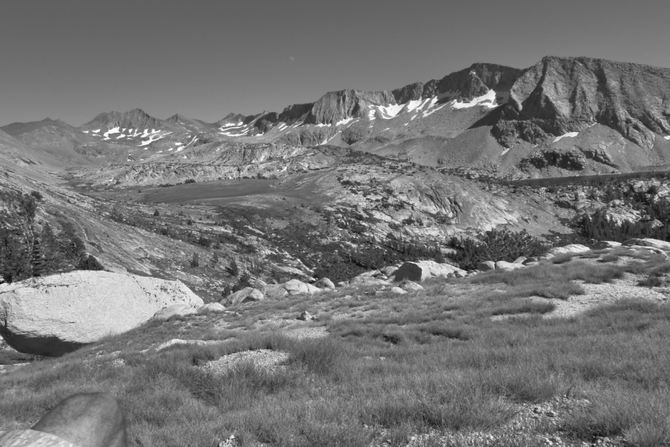 "

Climb the mountains and get their good tidings. Nature's peace will flow into you as sunshine flows into trees. The winds will blow their own freshness into you, and the storms their energy, while cares will drop away from you like the leaves of Autumn. "
— John Muir, Our National Parks, 1901
"

But oddly, though we know about it, we don't know about it. It hasn't registered in our gut; it isn't part of our culture. Where are the books? The poems? The plays? The goddamn operas?" - Bill Mckibben
This Rock We're On:  Imaginary Letters
"This Rock We're On: Imaginary Letters" is an oratorio for jazz orchestra, voice, cello, and percussion.  Pushing the boundaries of jazz orchestra composition by integrating classical structure with the language of jazz, this multi-movement work will give voice to a cast of "protagonists" who will "speak" through the device of imaginary letters, providing the basis for extended compositions. 
The work will feature art songs set for chamber ensemble, integrated with jazz orchestra works.  Each art song will take the form of a letter to or from a "protagonist" – authors, artists, naturalists, and adventurers, whose insights have shaped our appreciation for the natural world, and our place within it, laying the foundation for our growing awareness of the precariousness of the earth we inhabit. The songs range in style from 20th century art song (such as Samuel Barber Hermit songs) to recitative passages, and jazz ballads.   Each of these vocal works will be followed by an instrumental jazz orchestra piece that reflects on the text of the letter.  
The work will have a historical trajectory, starting with early naturalist writers and adventurers, and culminating in the present day, when climate change has irrevocably altered our relationship to nature.  The piece will conclude with a final imaginary letter from a young person contemplating the future. 
I chose the oratorio format because of its historical connection to themes of spirituality, mourning, and death.  Many contemporary composers have used this format for similar reasons (Julia Wolfe's "Anthracite Fields" and "Fire in my Mouth," for example), while only a few jazz composers have explored the oratorio format successfully (most notably Wynton Marsalis's "Blood on the Fields," and Fred Hersch's "Leaves of Grass").  This project seeks to expand the relevance of the oratorio as a contemporary art form by adapting it to the scale of an augmented jazz orchestra (integrated with chamber works), and pushing the boundaries of the conventional "big band" by foregrounding its orchestral potential and range. 
Project History & Development 
This project began with the inaugural Stuart Z. Katz Professorship in the Humanities and the Arts, City College of New York, which provided seed money for the research and development phase of the project.  This involved a deep dive into the literature (published writings, memoirs, and collected letters), personal interviews with protagonists, and extended visits to some of the locations that are a main source of inspiration for the work.  A Fellowship Leave from CCNY (2019-2020) enabled three artist residencies (Brush Creek Foundation for the Arts and Ucross Foundation for the Arts in November, and MacDowell in February), where the work of composing began in earnest. 
Premiere Performance
A premiere performance of the completed work by the GRAMMY-nominated Gotham Jazz Orchestra is scheduled for Spring 2023.  Featured artists will include Jason Rigby (tenor saxophone), Nir Felder (guitar), Dave Eggar (cello), Marvin Stamm (trumpet), John Patitucci (bass), James Shipp (percussion), and the up and coming Brazilian vocalist Jamile Staevie Ayres.
Featured protagonists in the work include: 
Ansel Adams 
The American photographer Ansel Adams is best known for his iconic images of the American West, and a life-long advocate for environmental conservation.  For Adams, the wilderness was "a mystique: a valid, intangible, non-materialistic experience," and his photographs have inspired my own explorations of the remote reaches of the Sierra Nevada range. 
The vocal work for this protagonist is titled "Dear Virginia," and takes the form of a letter from the photographer to his wife.   It is set as a jazz ballad, with lyrics based on some of the more evocative passages of Adams' published letters, as well as insights from the photographer's granddaughter, a fellow jazz musician, who has generously agreed to be interviewed for this project.  The jazz orchestra piece for this protagonist is titled "Domes," referring to the unique geology of Yosemite Valley, and the subject of some of Adams' most memorable photographs.    
Rachel Carson   
Rachel Carson was a marine biologist and nature writer who is best known for her publication Silent Spring (1962).  The vocal work for this protagonist is titled "Another Summer," and is set as a letter to Dorothy Freeman, who Carson met in 1953 (their deep friendship is preserved in a published collection of their correspondence).  The title for the jazz orchestra piece for this protagonist is "Tides," reflecting Carson's lifelong preoccupation with the sea.  
Sigurd Olson  
Sigurd Olson was a nature writer and conservationist, best known for his books about the North Woods wilderness of Minnesota.  The vocal work for this protagonist is titled "Three Words for Snow," evoking the circumstances of the author's death, at age 82, while snowshoeing in the Minnesota woods.  The jazz orchestra piece for this protagonist is titled "Boundary Waters," referring to the Boundary Waters Canoe Area Wilderness, where I spent a memorable summer as a trip leader during college.  Olson worked as a guide in this region for more than 30 years, and was instrumental in its establishment as a designated wilderness.  
Terry Tempest Williams  
Terry Tempest Williams is an author, naturalist, and activist whose wide-ranging works of creative non-fiction address issues of social and environmental justice.  The vocal work for this protagonist is titled "Refuge" (the title of her most influential book), and is inspired by an extended visit to the Bear River Migratory Bird Refuge, where I spent a day immersed in the location that formed the backdrop to the book.  In January 2020 I had the opportunity to meet the author to discuss ideas for the project, and she expressed interest in collaborating on the section devoted to her.  The jazz orchestra piece for this protagonist is titled "Erosion" (the title of her recent collection of essays), but my meeting with the author unexpectedly inspired an additional jazz orchestra piece titled "Tower Pulse," which was inspired by the audio recordings made by a team of geologists of the sounds produced by Castleton Tower, one of the largest free-standing towers in the world, near the author's home in Utah. 
Wendell Berry 
Wendell Berry is a novelist, poet, essayist, and activist, who maintains a small farm in rural Kentucky.  The vocal work for this protagonist has not been started, as I am hoping to secure an interview with the author before beginning; the working title for the jazz orchestra piece is "A Dirt Lover's Almanac," evoking a farmer's commitment to soil and weather. 
Robin Wall Kimmerer 
Robin Wall Kimmerer is an environmental scientist and member of the Potawatomi Nation.  Her 2013 publication Braiding Sweetgrass:  Indigenous Wisdom, Scientific Knowledge, and the Teachings of Plants (2013) was the inspiration for a jazz orchestra composition titled "Skywoman Falling." I am still developing ideas for the vocal work that will accompany this piece.  
Musical Background 
Classically trained as a pianist, my original compositions range from small ensembles to extended works for jazz orchestra.  While drawing on a diverse range of musical genres, much of my music is also inspired by my deep love of the outdoors, and my growing concern for the fate of the planet. 
There is a long tradition of music inspired by nature -- from Beethoven's Pastoral works, to Copland's Americana, and Messiaen's "Des Canyons aux Etoiles."  The two extended works featured on my recent GRAMMY® nominated release, "Mike Holober and the Gotham Jazz Orchestra:  Hiding Out" is a modern expression of this tradition.  "This Rock We're On:  Imaginary Letters" will extend this project of exploring the orchestral possibilities of jazz big band, with nature as an abiding theme. 
My compositions also draw inspiration from a very small but distinguished community of jazz orchestra composers who have built upon and expanded the big band tradition established by Duke Ellington, Thad Jones, and Gil Evans.  Bob Brookmeyer and Jim McNeely, in particular, have forged new frontiers for jazz orchestra, while inspiring a new generation of young composers through the BMI Jazz Composers Workshop (where I served as Associate Director from 2007-2015).  Maria Schneider has explored a more lyrical direction with her lush orchestrations and expressive harmonies, while Darcy James Argue has brought jazz orchestra into the 21st century with a genre-defying approach that has attracted a new generation of young listeners.  My writing endeavors to make a significant contribution to this modern genre by integrating extended forms from classical music with modern jazz language, resulting in a statement that re-defines the jazz "big band" as a true orchestra. 
Also relevant to this project is a more recent direction in my creative output that has involved the integration of voice and lyrics, treating the voice as a frontline instrument (rather than as a "singer's showcase"), and using lyrics to add an additional narrative dimension to the music.  This interest began with the formation of "Balancing Act," a jazz octet with voice, and the release of our first album in 2015, featuring six original compositions, four of which include lyrics.  "Don't Let Go," a 2017 Chamber Music America New Jazz Works commission for "Balancing Act," gave me the opportunity to explore this format more deeply.  Structured as a song-cycle in the tradition of Robert Schumann, Samuel Barber, Francis Poulenc, and Ralph Vaughn-Williams, this concert-length project uses musical settings of lyrics to explore the nuances and complexities of the concept of "hope" in the context of current social, political, and environmental realities.  
Much of my musical inspiration comes from a lifetime spent outdoors.  I have spent a good portion of my adult life exploring remote wilderness locations both in the United States and abroad -- seeking what John Muir called the "good tidings" of the mountains.  In the context of the current climate crisis, these tidings are now often clouded by foreboding, but the sublimity of nature – and its impending peril -- remains my most enduring source of inspiration.